Donate To
Detroit's No-Kill Mission
Detroit Dog Rescue is Detroit's first and ONLY no-kill shelter.
Your tax-deductible gifts make a direct impact
in the lives of the dogs we SAVE everyday.
Abandoned, abused, orphaned, and alone,
YOU can give them a chance.
Detroit Dog Rescue's Big Chance
Join us for the Rock Family of Companies Charity Challenge and help us win $25,000!
With your support, Detroit Dog Rescue can continue rescuing, rehabilitating and rehoming the dogs of Detroit. Please make a donation today to support our mission!
Make a Donation
Your donation is vital to our mission to sustain the first no-kill rescue center in the City of Detroit and aid in the rescue, rehabilitation and rehoming of the abused, abandoned and homeless dogs.
Make your donations go farther with a monthly recurring donation by following the link below.
Detroit Dog Rescue Honors
Find the dogs with Detroit Dog Rescue!
Enjoy a doggy scavenger hunt with your kids (or on your own) while you're out for a walk or while looking out a window!
Download the PDF sheet for free by clicking "Download" and print it or save the image below to your phone.
Please remember to be safe and courteous when on your scavenger hunt and ask for permission before approaching any dogs!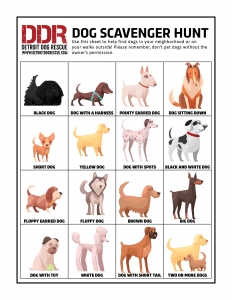 If you have photos of your kids checking off the scavenger hunt and would like to share them, please email them to stephanie@detroitdogrescue.com so we can share them to our social media!
Testimonials
What our dogs and supporters are saying!
Thank you so much DDR. You were hope when hope seemed dim. Not only have you helped me tremendously with my pack of 3, you also were willing to take the time out to help out with a stray. All in one visit. You guys are great, professional and you guys taught me patience as I had begun to panic. Thank you again and again, you guys were great.
Getting to experience the #RESULTS that come from the work and love put into saving every dog is nothing short of amazing! The adoption process was thorough but simple and they made sure #Courage would be happy in our home. The right fit does make all the difference! 👏🏻❤️

Adopted Avi (Ash) at Premier Pet Supply on Oct 6th, she is amazing and growing so quick. Adoption process was great and would do it again when we can.

I've been volunteering since 2012. I trust and support in the mission of Detroit Dog Rescue and how they will do anything and everything to help a dog. My favorite parts about volunteering include being able to help whenever and however I can, and spoiling and snuggling up with Boss, the office cat.
I'm the most spoiled! It's me, Jefferson! Detroit Dog Rescue took me in after I was found in an abandoned house. I was starving, I hadn't eaten anything in so long! Now, I live with DDR's shelter manager and I love cheese pizza! I'm living the best life!

Did you know that the Detroit Dog Rescue team works really hard to improve Detroit? Their dedication to Detroit Animal Care and Control has saved hundreds of dogs from euthanasia and I am one of them!
#NoKILLDetroit
Detroit Dog Rescue says, SENIOR DOGS ROCK! They took me in when I was nine years old with all kinds of health issues and still found me a home. I'm happy and smiling now! Thanks DDR!

I remember the day my human mom passed away from cancer. There was so much noise, so many people, and I didn't know where I was going to go. I heard them talk, I heard them say, no one could take me.
Thank you, DDR, for loving an old dog like me and helping me live out my last days with so much compassion!

We've had Zeke for about six weeks and he's been a wonderful addition to our home.  He is gentle, well behaved, and gets along well with our older dog and two cats.  He walks three miles every day and just completed an extensive dog training school. We love having him.

It's me, Jax! Someone tied to me to a fence in Detroit...and well...they never came back. As soon as Detroit Dog Rescue heard about me, they came right away to rescue me. I was adopted by the best mom in the world and we snuggle every night. Thanks DDR!

It was cold in the abandoned house.Thankfully, Detroit Dog Rescue came for me. Their friends at the doctor fixed me up, fed me, and DDR found me my forever home in Farmington Hills, Michigan. It's amazing what a little love and food can do! Thanks Detroit Dog Rescue!