Detroit Dog Rescue not only focuses on the rescue, rehabilitation, and adoption of Detroit's dogs, we are making a positive impact in the community through our outreach program which includes: education, vaccination clinics, welfare checks and assistance. Through sponsors, donors, and the general public, who desire to make a difference in the community, we are able to support citizens with the assistance they need to make sure their pet receives the care they need to live the best life.
Our outreach program has helped to reduce dog bites and decreased the amount of chained and tethered pets who live outdoors in the city of Detroit. If you wish to change the life of a dog in need, and the families who care for them, you can make a tax deductible gift HERE.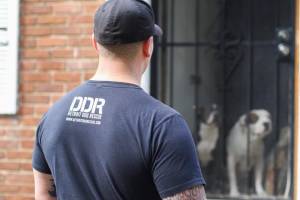 If you live in the city of Detroit and are a household in need of assistance, please start by filling out our Outreach Application. To help assess your needs, each section of the survey must be completed for consideration.
Please only fill out an application for your household.
We're here to help!
Thank you for helping to make Detroit a safe place for pets and the communities that care for them!
Once we receive your application, our outreach team will call you to conduct an over the phone interview and assign a delivery date for your items. Unfortunately, applications for third party households cannot be considered.