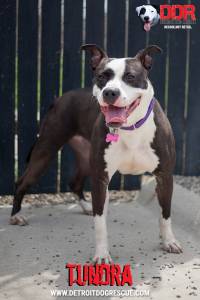 Isn't she the cutest thing you have ever seen?  This is Tundra.  Tundra was found during the cold winter of 2017.  She had nowhere to go, no resources to survive, and was extremely cold and fearful.  We took her in – no questions asked.  Tundra is now safe, secure, and is coming out of her shell more and more everyday.  Now what she really needs is a foster and/or adopter to help her thrive in this world.
Here is what we know about Tundra.  Tundra is shy at first, but comes out of her shell very quickly with some hotdogs and chicken.  She thinks she is a lap dog once she gets to know you,  but hey, if she thinks she is a lap dog, we aren't going to stop her!  Tundra is dog selective, but once she likes a dog, man does she like them!  She can play hard, but sleeps even harder.  Favorite Snack: Peanut butter or string cheese.  Favorite Hobby: Getting belly rubs.  Favorite Summer Activity: Anything outdoors.
If you could be the perfect family for Tundra, please fill out an application.
Breed: Pit Mix
Gender: Female
Age: 2 Years
Size: Medium
Activity Level: Medium
Good with Dogs: Selective
Good with Cats: Too curious
Good with Children: Older only