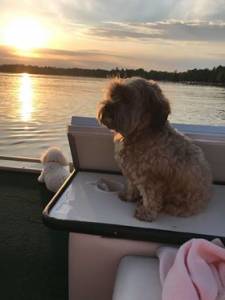 'Tricks' aka Gracie….she's loving her first pontoon ride up north at her Cottage…she's doing great!! She is the biggest sweetheart!
When Tricks was rescued by Detroit Dog Rescue she had a mammary mass the size of a softball taking over most of her abdomen.
Sadly, we received news that Trick's cancer is terminal. If someone would have just cared enough to spay her, her life would have been so different. For most shelters this diagnosis is fatal. Not fatal by cancer, it's fatal by injection. She would be seen as "unadoptable", not manageable, not profitable, just unadoptable. Therefore, she would be euthanized.
At Detroit Dog Rescue, our #ForeverFoster program allows dogs with cancer to LIVE their lives with dignity in a foster home and enjoy all of the experiences a loved pet should.