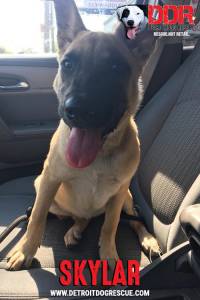 Skylar was sadly left at our shelter doorstep, and once we saw her face, we couldn't say no! She is looking for a companion to explore the world with who appreciates the amazing qualities Malinois' offer, including being incredibly smart and spunky. Skylar loves force-free, positive reinforcement training and picks up new behaviors remarkably fast. For fans of this unique, sensitive and gorgeous breed, adopting Skylar is the perfect opportunity.
Is Skylar a pure bred Mal? We aren't sure. She's a bit on the small side for the breed standard, but we do know that she is 100% awesome to work with.
If you could be the perfect family for Skylar, please fill out an application.
Breed: Malinois Mix
Gender: Female
Age: ~10 months
Size: Medium
Activity Level: High
Good with Dogs: Yes
Good with Cats: Maybe
Good with Children: Older