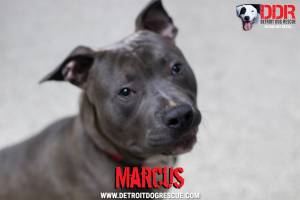 If this guy was in high school, he would easily be voted class clown.  Meet Marcus, or what we call him, the class clown of Detroit Dog Rescue.  Marcus is so goofy, you can't help but to smile when you are with him.  One word to describe his personality is, 'SPUNKY'.  Marcus loves everyone he meets while maintaining a perfect smile.
Marcus has a lot of energy, so he would get along best with other dogs who can match his energy level.  Due to this energy, he would also do best in a home with older children, and no cats.  Marcus has a very smart mind, and he will do anything to make you happy.  He would definitely benefit from walks or fetch in the backyard because he is so playful!
Favorite thing to do: Eat.  Favorite Snack: That's impossible for him to decide.  Favorite Toy: Ropes.  Favorite Movie: He's more the outdoorsy type.  Favorite place to lay: On your lap while sleeping on a comfy couch!
If you could be the perfect family for Marcus, please fill out an application.
Breed: Pit Mix
Gender: Male
Age: 3 Years
Size: Medium-Large
Activity Level: Medium-High
Good with Dogs: Higher energy levels
Good with Cats: No
Good with Children: Older only