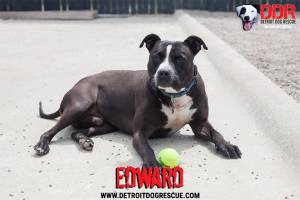 Edward came to us after he was chained up to a fence next to a school.  Edward loves to sit in your lap, to lounge where you are, and to love everyone. Edward NEEDS out of the shelter. As great as our shelter is, he is extremely stressed and would do best in a foster situation. Our team has been taking him out on field trips to decompress, but the reality is, we need to decrease his stress levels now, because he is starting shut down.
Edward does well lounging with other low energy dogs and he sleeps curled up on chairs- yes, just like a cat. Edward is doing outstanding in training and knows his basic commands.
If you could be the perfect family for Edward, please fill out an application.
Breed: Pit Mix
Gender: Neutered Male 
Age: 6 Years
Size: Medium
Activity Level: Low-Medium
Good with Dogs: Selective
Good with Cats: Too curious
Good with Children: Older only