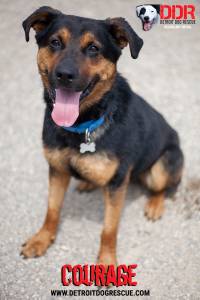 Courage spent his whole life chained up and is just learning what it's like to be a dog. He doesn't trust other dogs quite yet, and this could be,because stray dogs are known to attack chained dogs leaving them incredibly vulnerable.
Courage is truly remarkable and it will be good for him to leave the vet and find a foster home soon. Here's what he's looking for, Courage needs a patient home, he's still learning the world too. Dishwashers, hairdryers, all those sounds will be new to Courage. He must go to a home with no animals or children- let's build his confidence before we introduce him to the whole world.
Why you need Courage…he's smart. This #Survivor is so eager to learn. He's loving, he truly wants to find his home. He's polite, he's still working on manners, but going potty outside, walking with a harness, and playing with his ball, are all things he loves. Finally, because he deserves it, he's been through the worst and deserves the best.
If you could be the perfect family for Courage, please fill out an application.
Breed: Shepherd/Rottweiler Mix
Gender: Male
Age: 2 Years
Size: Large
Activity Level: Medium-High
Good with Dogs: No
Good with Cats: No
Good with Children: No