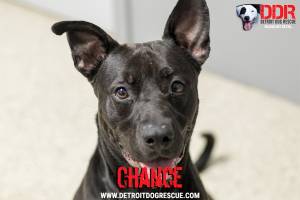 Oh Chance, was a handsome face you have!  Chance was found by one of our awesome volunteers, and we love having him here with us!  Chance is about as cheerful and free spirited as they come.  He loves to greet everyone he meets, and cannot get enough of them.  Chance gets along with other dogs, is too curious for cats, and due to his energy level would do best in a home with older children.
Chance has a very smart mind, and is eager to learn new tricks.  He gets really happy when he gets praised for doing something right, and is very loyal.
Favorite Snack: Cheese.  Favorite Activity: A game of tag.  Favorite Toy: All of them.  Favorite Person: Everybody.  Pet Peeve: When he isn't getting attention
If you could be the perfect family for Chance, please fill out an application.
Breed: Shepherd Mix
Gender: Male
Age: 2 Years
Size: Medium
Activity Level: Medium-High
Good with Dogs: With Higher Energy Levels
Good with Cats: Too Curious
Good with Children: Older Only