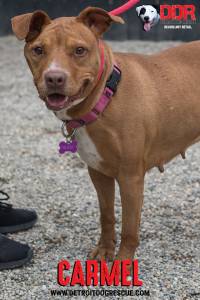 We received a call that Carmel was hit by a car and needed emergency medical attention. Of course we had to help! Carmel received all of the medical attention that she needed, and is now good as new. Carmel was such a trooper throughout the whole process, and never managed to stop shaking her wiggly behind. She was truly the best patient that any of us could as for!
Carmel will wiggle herself into your lap and wants all the belly rubs. Every time she goes out for a walk everyone always comments saying how sweet of a girl she is. She gets super excited when she is around other dogs, would prefer a home with older children due to her wiggly tail, and is too curious for cats.
If you could be the perfect family for Carmel, please fill out an application.
Breed: Pit Mix
Gender: Female
Age: 2 Years
Size: 40 lbs
Activity Level: Medium
Good with Dogs: Selective
Good with Cats: Too Curious
Good with Children:  Older