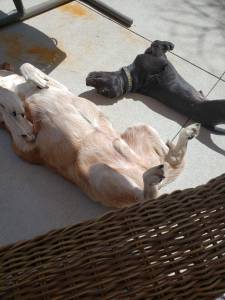 We love getting pup-dates! Bronco is one of Hershey's puppies who is doing so good in his new home! "Little" Bronco not only has a new dog sibling, but also a cat who he is insistent on becoming  friends with.
"Just wanted to send you some pics of not so little Bronco. At 16 weeks he's tipping the scales at 30lbs!! As you can see by the pics attached, we are working toward a peaceful coexistence in the house.
Bronco and Filbert have become pretty good buddies and Filbert definitely keeps him in line. We're still working on the whole pee pee outside stuff but he's slowly making progress.
Beland is still not a fan but Bronco is very persistent 🙂 !
This little guy definitely has a personality and would run the house if we let him. Training has been our goal and he's an awesome sitter (for a treat of course), he's started to hang out at the back door when he has to pee, he sleeps in his crate all night long, any and everything is his toy and he's sighs like a grown man which always makes us laugh. He's found his voice and has employed the use of the high pitched puppy bark which everyone is a fan of…NOT!"